The Bar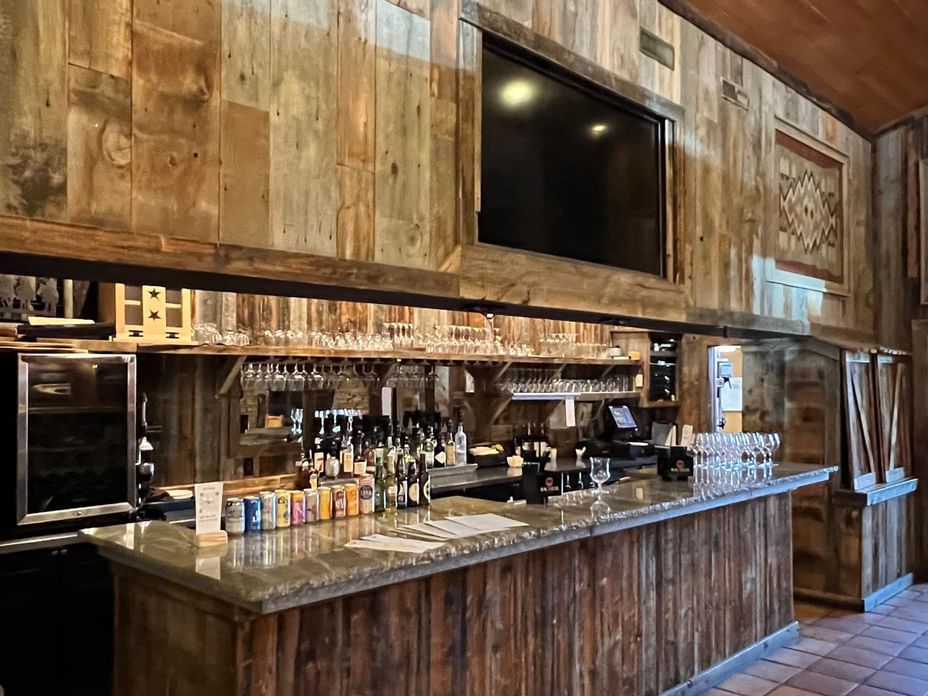 The Bar at Red Cliffs Lodge is now open for lunch and dinner, lite fare, and cocktail service. Please join us from 11:30 AM to 10 PM. Reservations are not required, and limited seating is available. Menu subject to change without notice.

Ranchero Menu
"Buffalo" Style Red Cliffs Beef Prairie Jewels
Spicy Deep Fried Rocky Mountain Oysters, Southwest Dipping Sauce & Blue Cheese Dressing 15
Fish Tacos (2)
Beer Battered Pacific Cod, Spicy Coleslaw, Chipotle Aioli & Mango Salsa 22
Smokey Game Texas Chili
Ground Venison, Wild Boar & Beef with Smoked Cheddar & Scallions 15
Grilled Chicken Nachos
Refried Beans, Melted Cheese, Pico de Gallo, Avocado, Green Onions & Sour Cream 19
Homemade Guacamole and Chips 10
Salsa and Chips 8
Vegetarian Tastes & Salads
OR MAKE IT UNVEGETARIAN WITH
4 oz chicken breast 8 4oz sirloin steak 12 4oz smoked salmon 12
Artichoke & Spinach Dip
Naan Bread and Crisp Corn Tortillas 14
Avocado Toast Organic Sprouted Multigrain Toast
Lime Avocado, Cream Cheese, Arugula, Heirloom Cherry Tomatoes, Red Onion and Citrus Dressing 15
Arugula, Baby Spinach & Kale Salad
Toasted Pine Nuts, Pomegranate, Pickled Blueberries & Sage Vinaigrette 12
Red Cliffs Salad
Baby Greens, Heirloom Cherry Tomato, English Cucumber, Toasted Corn & Black Beans, Flat Bread Crisps & Charred Cactus Vinaigrette 12
Classic Caesar
Romaine Lettuce, Croutons & Shaved Parmesan Cheese 12
Between the Bread
All Sandwiches Come with Choice of French Fries or House Salad
(Substitute with Sweet Potato Tots for $2 or Truffle Fries for $4)
Seared Yellowfin Tuna Sandwich
Roasted Peppers, Spicy Coleslaw, Olive Salsa on Toasted Focaccia 20
Rancher's Roast Beef Dip Hoagie
Caramelized Onion, Smoked Cheddar Cheese, Spicy Adobo & Sage Au Jus 19
BLT Plus
Bacon, Lettuce, Tomato, Swiss Cheese, Crushed Lime Avocado on Texas Toast 18
Grilled Chicken & Avocado
Brioche Bun, Swiss Cheese, Avocado Spread, Tomato & Lettuce 18
Between the Bun
All Burgers Come with Choice of French Fries or House Salad
(Substitute with Sweet Potato Tots for $2 or Truffle Fries for $4)
Cowboy Bacon Angus Burger
Proprietary Blend of Ground Chuck, Brisket & Short Rib Angus Beef,
Smoked Hickory Bacon, Smoked Cheddar Cheese, Charred Onions,
Marinated Tomato, Arugula & Cowboy Mayonnaise 24
Hunter's Game Chili Cheeseburger
Our Game Chili over Angus Beef Burger with Smoked Cheddar Cheese & Caramelized Onion 22
Rancher BBQ Cheeseburger
Cowboy Mayonnaise, Cheddar Cheese, Mushroom, Tomato & Lettuce 20
Wrangler Cheeseburger
Green Mayonnaise, Cheddar Cheese, Tomato & Lettuce 18
Southwestern Black Bean Veggie Burger
Arugula, Artichokes & Avocado Lime Spread 18
Consuming raw or undercooked meats, poultry, seafood, shellfish or eggs may increase your risk of food borne illness.